Chronic hepatitis with cirrhosis
Primary biliary cirrhosis
Biliary atresia
Sclerosing cholangitis
A transplant can allow patients to live a normal, fully functioning life after transplant.

Severe coronary artery disease
Congenital heart disease
Dilated cardiomyopathy
Many heart transplant recipients lead long and productive lives after transplant.

Chronic obstructive pulmonary disease
Idiopathic pulmonary fibrosis
Cystic fibrosis
Idiopathic pulmonary arterial
Hypertension
After a lung transplant, the majority of recipients have no limitations on physical activity.

Chronic kidney disease
High blood pressure
Diabetes
Kidney transplant eliminates the need for dialysis treatments and more.

Type 1 Diabetes with end-stage renal disease
A pancreas transplant can cure diabetes and eliminate the need for insulin injections after transplant.

Life-threatening complications from total parenteral nutrition (TPN)
Intestinal transplant recipients are able to transition to an oral diet and resume normal activities of daily living after transplant.

Repair defects caused by trauma
Neurosurgery
Promote healing
Enhance life

Saphenous vein
Femoral vein
CABG procedures
Peripheral vascular disease
AV access

Burns
Abdominal wall injuries
Reconstructive surgery after mastectomy
Promote healing
Prevent fluid loss
Decrease infection & pain

Femur
Tibia
Fibula
Humerus
Radius
Ulna
Hemi-Pelvis
Fascia lata
Tendons & ligamennts
Trauma
Fractures
Tumors
Degenerative bone disease
Dental surgery
Bladder sling procedures
Hernia repair
Sports injuries
Promote healing
Restore mobility
Prevent amputation

Cornea
Sclera
Whole globe
Cornea perforation
Pseudophakic bullous keratopathy
Keratoconus
Corneal degeneration
Corneal scarring due to keratitis & trauma

Aortic valve
Pulmonary valve
Congenital heart disease
Valvular heart disease
No rejection
No anticoagulation therapy needed
Treatment of choice for children
Low risk of infection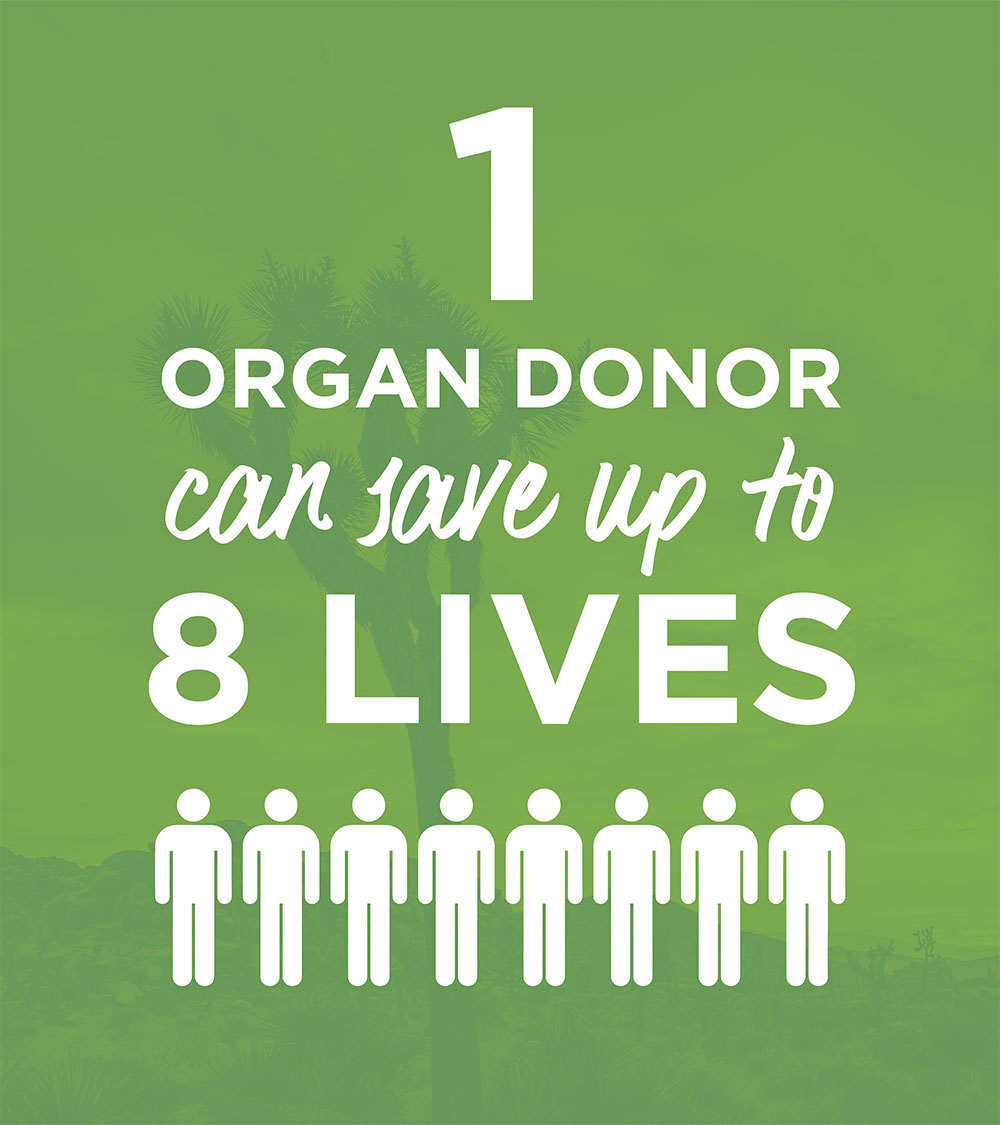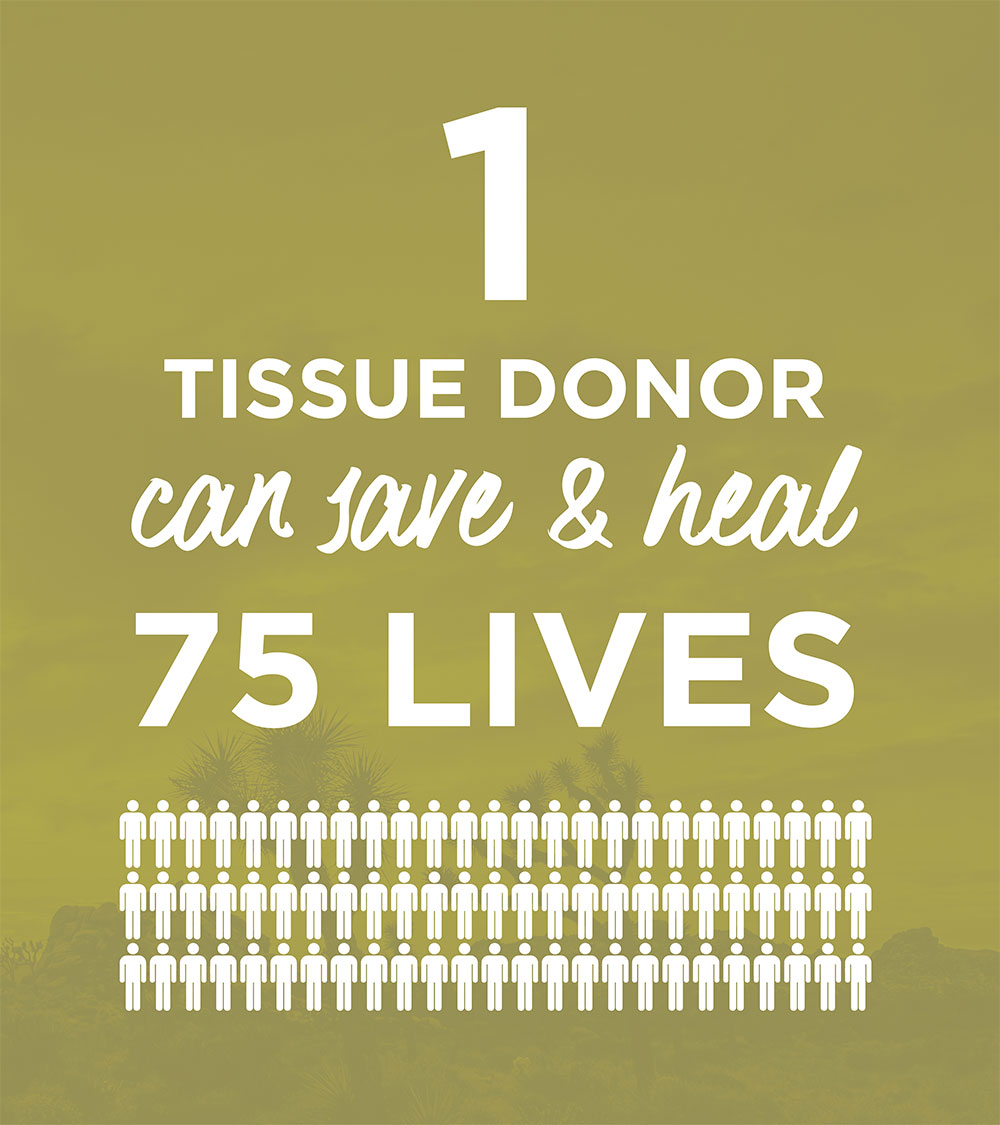 The Donation Process
Tap each step to read more about the donation process:








Frequently Asked Questions
Q. If first responders/medical professionals know I'm a registered donor, will they still work as hard to save me?
A. Your life always comes first. If you are sick or injured, the first responders', doctors' and nurses' first priority is always to save your life. Donation is only considered after all life-saving efforts have been exhausted.
Q. Can I donate if I'm older and/or have medical issues?
A. Everyone should consider themselves a potential donor, regardless of age or medical conditions. Each patient is evaluated at the time of death to determine which organs and tissues may be medically suitable for donation.
Q. Will my family have to pay for the medical costs if I am a donor?
A. Your family will never have to pay for costs associated with organ, eye and tissue donation. Costs related to donation are paid by the recipient, usually through insurance, Medicare or Medicaid.
Q. If I donate, will I still be able to have an open casket funeral?
A. Throughout the donation process, heroic donors are treated with the utmost respect and dignity. Organs and tissues are recovered in a surgical procedure and all incisions are closed and dressed. Every effort is made to minimize changes to physical appearance.
Q. How do I know if my religion supports organ, eye and tissue donation?
A. All major organized religions in the U.S. support or encourage organ, eye and tissue donation and view it as a final act of charity or love. Learn more about your religion's position on donation here.
Q. Do I need to tell my family I registered?
A. Even if you are a registered donor, it is important to share those wishes with your loved ones. Your family may be asked to complete paperwork in order for donation to occur.